Need to prepare a surface, remove coatings or gaskets, clean weld splatter? Surface conditioning discs are multi-purpose, often used as a starting point for surface prep, cleaning, stock removal, finishing, leveling, blending, and light deburring. Made from aluminum oxide mineral combined with open web nylon, our Hook and Loop Surface Conditioning Discs with a ⅞ arbor hole, our non-woven Hook and Loop Surface Conditioning Discs and our Surface Conditioning Quick Change Discs are excellent to use on glass, steel, stainless steel, aluminum, titanium and alloys, and fiberglass. Their aluminum oxide construction offers a long working life, which makes them a cost efficient and popular choice.
Available in coarse, medium, and very fine, the discs are conformable which makes them aptly suited to condition irregular or rounded work surfaces without hurting the base material, gouging, or undercutting. They provide a continuous, controlled, and uniform finish in less time.
We Also Carry Surface Conditioning Belts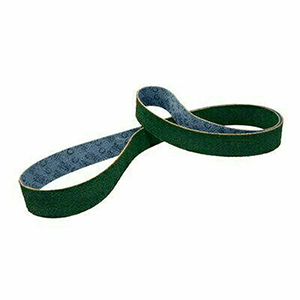 Our full line of surface conditioning abrasives also includes Surface Conditioning Belts that can be used in place of coated sanding belts with a finer grade is needed.
Surface Conditioning Belts:
Combine aluminum oxide mineral with open web nylon, so that it cuts aggressively while leaving a soft finish, making it a good match for blending and finishing applications
Combine aluminum oxide mineral with nonwoven nylon fibers using resin
The Scotch-Brite 3M brand of products not only enhance productivity, but also increase operator safety.
Shop Surface Conditioning Discs and Belts
Shop our wide variety of grades and sizes, and receive bulk discount rates on large orders. Discount rates will be reflected in your cart. If you have questions we can answer or need to place a special order, contact us today.